Over 300 children in Haringey benefit from wonderful new ´lending library´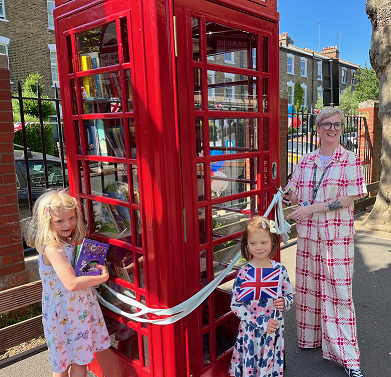 In June 2022, 'The Friends of Stroud Green' used their BCBN grant to purchase a refurbished British red telephone box to be used as a new 'lending library'  for their school and the wider community to enjoy.
The fabulous new addition to the multicultural Stroud Green Primary school's playground has already benefitted all of the 300 children attending, who are aged between 1-11 years old. Hoping to instill a love of reading in all the pupils at the school, they are also using the library as a reward system; if a child shows great effort during reading lessons they are given a book token and sent to the headteacher who then takes them to the phone box to choose a book to keep.
As well as pupils being able to access the library before, during and after school, the rest of the local community can access it on a Sunday during the weekly farmers' market, held in the school grounds. Many of the books donated by parents and the wider community are in wonderful condition so it truly is a team effort!
Rhonda Scott, Assistant Head of Early Years said "Our library will have a long term impact. It has made our lunchtimes calmer and more purposeful. Before we had our library in the playground, there was little reading happening… now everyone wants to get involved." She added "Thank you so much for making our dream become a reality."
BCBN are very happy to see the positive impact that the grant has had on this community.
100% of children say they love the new library.
100% of staff have said children try harder in reading to win a token.